Pond Fountain Installation
Have a Professional Install your Aerator or Fountain
Living Waters Aquariums & Ponds offers a diverse selection of aeration and water features. We desire to meet your needs in aesthetic beauty and performance. We install and recommend commercial-quality brands including , Air-O-lator, Airmax, Anjon, Easy Pro, Kasco and Oase. Request a free estimate anytime.
Additionally if your decision needs informed by environmental data, Living Waters Aquariums & Ponds offers water quality analysis.
Read our Buyer's Guide & FAQ on Pond Fountains for Kansas property owners & homeowners!
Decorative Display Fountains
These are Best in Visual Appeal
Our floating fountains emit majestic plumes of water ascending 6′ to 36′ into the air!
A decorative fountain has an interchangeable nozzle. What fountain nozzle pattern will you choose?
Shapes include- rocket, geyser, umbrella, crown, 2-tier, and many more.
Our fountains are suited for residential, commercial, and industrial applications including golf courses, retention ponds and farm ponds.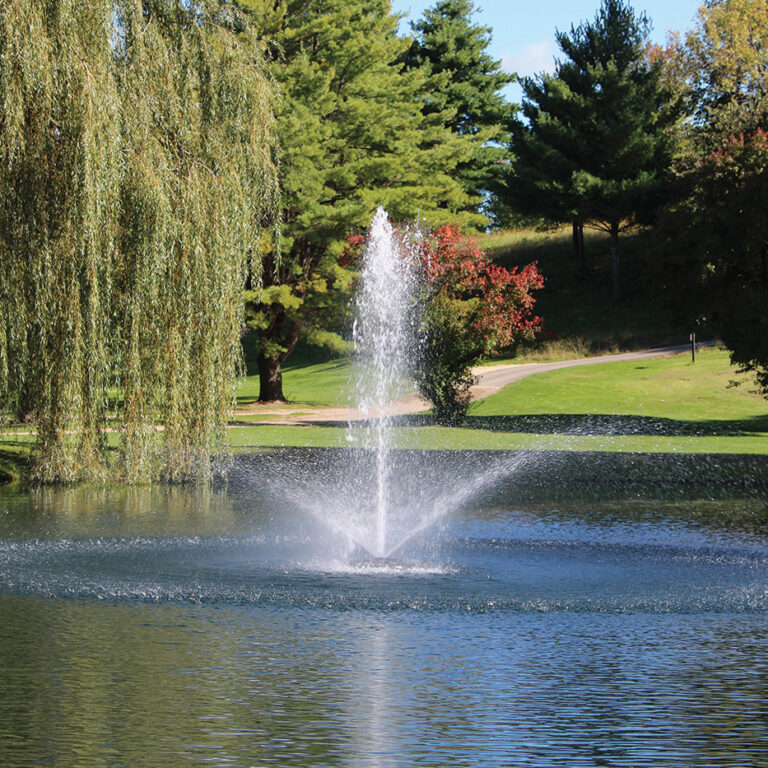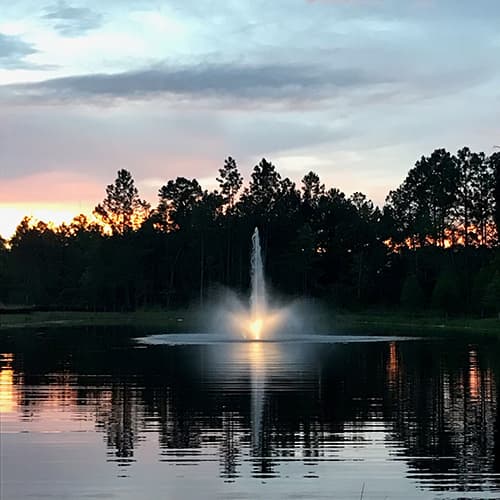 29 Feet Wide!
"Linden"
3/4 Horsepower Fountain

This Kasco Fountain comes with multiple spray pattern nozzles.
It is well-designed, with convenient features.

Includes:
5 nozzle patterns
120V motor
Control panel & 100′ cord
2-year warranty
multiple lighting options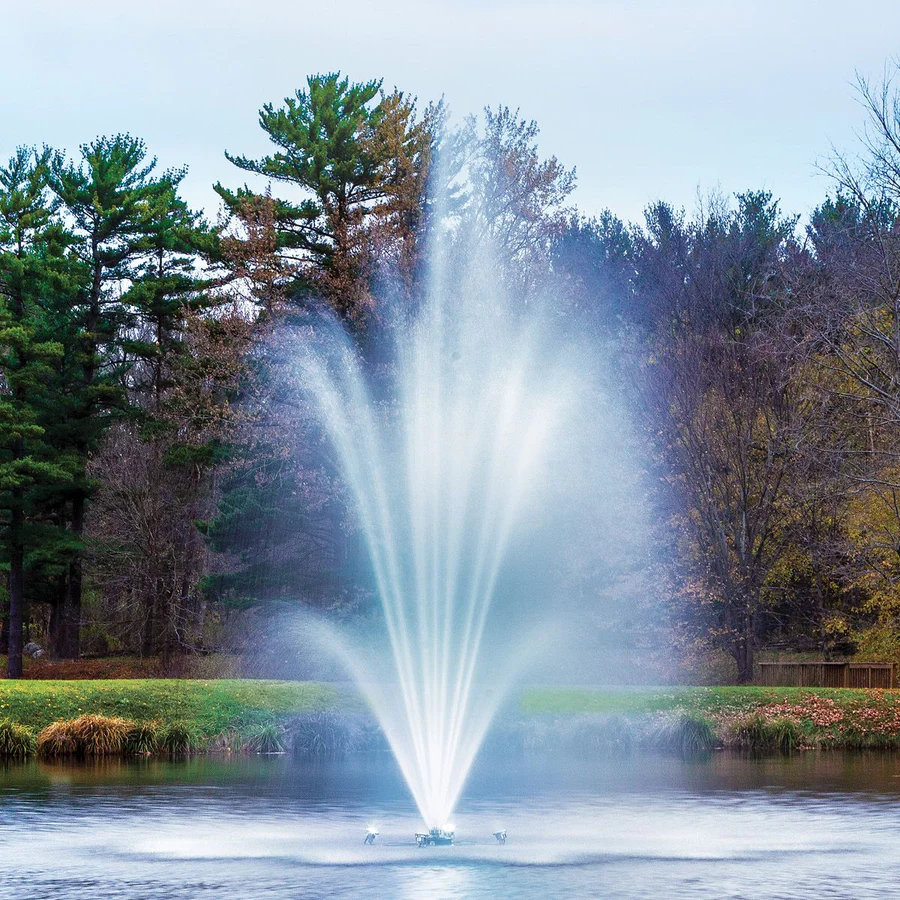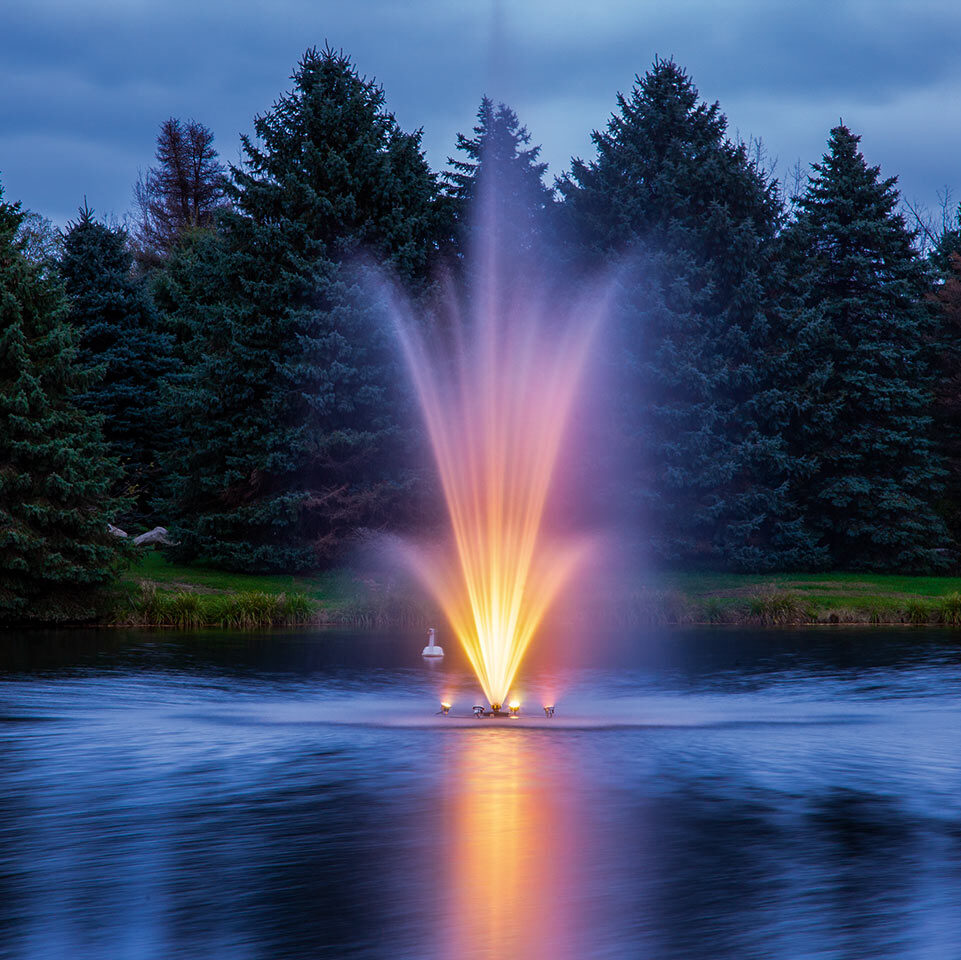 35 Feet Tall!
"The Amherst"
3-Horsepower Fountain

The biggest bang for your buck. This water column is the size of a schoolbus!
But the real boast is this fountain's distinct three-tier form!

Includes:
240V motor
Control panel & 100′ cord
5-year warranty
ask us about lighting options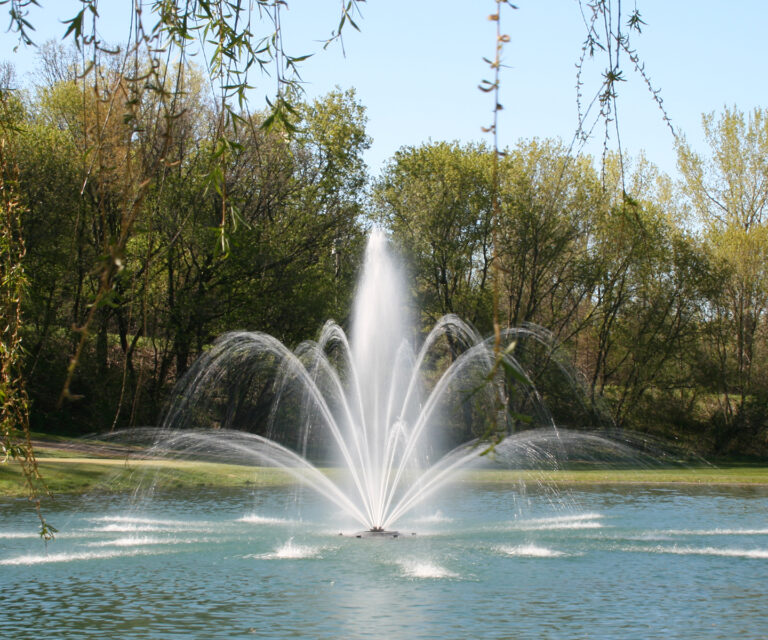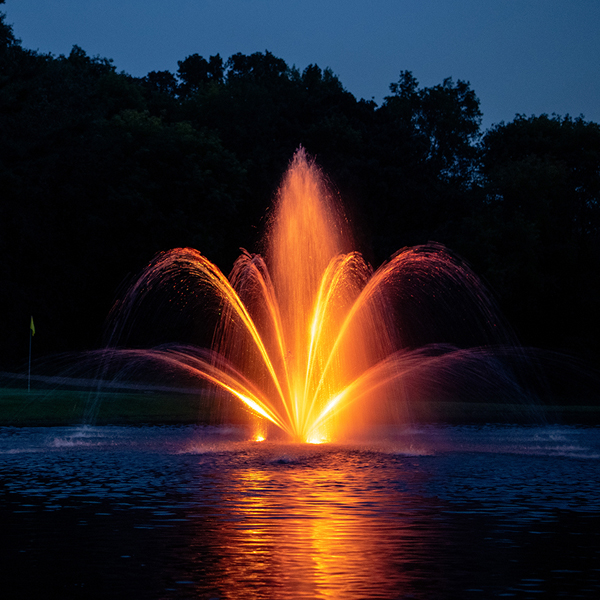 21′ x 58′ Pattern!
"Mahogany" with lights
3-Horsepower Fountain

A Kasco fountain with a premium nozzle.
This spray pattern is big as a carnival ferris-wheel! The three-tiered "Mahogany" is a commanding fountain.
Includes:
6 nozzle patterns
240V motor
Control panel & 100′ cord
5-year warranty
includes Stainless Steel 6-light LED
fountains with lights starting as low as $1641.99
Living Waters Aquariums & Ponds sells and installs trusted fountain brands such as:
Air-O-lator, Anjon, Bearon Aquatics, Kasco, Oase and Scott Aerator. Prices do not include installation.
Illuminate any fountain
You have a choice.
We offer multiple lighting options for many brands of fountains, including soft white, bright white, and color changing LEDs.
Aerating Display Fountains
When you need water quality management- accept trustworthy brands like Scott Aerator & AIR-O-LATOR. These power fountains are also designed to improve your water quality.
More efficient than a decorative fountain, aeration fountains emit a dense "V" shaped geyser-fountain. As a result, the torrential plume of water exchanges oxygen both in mid-air and across the pond surface.
Keeps shallow water clean
Living Waters Aquariums & Ponds recommends aerating fountains if you have a "shallow" pond with a depth less than 4 feet.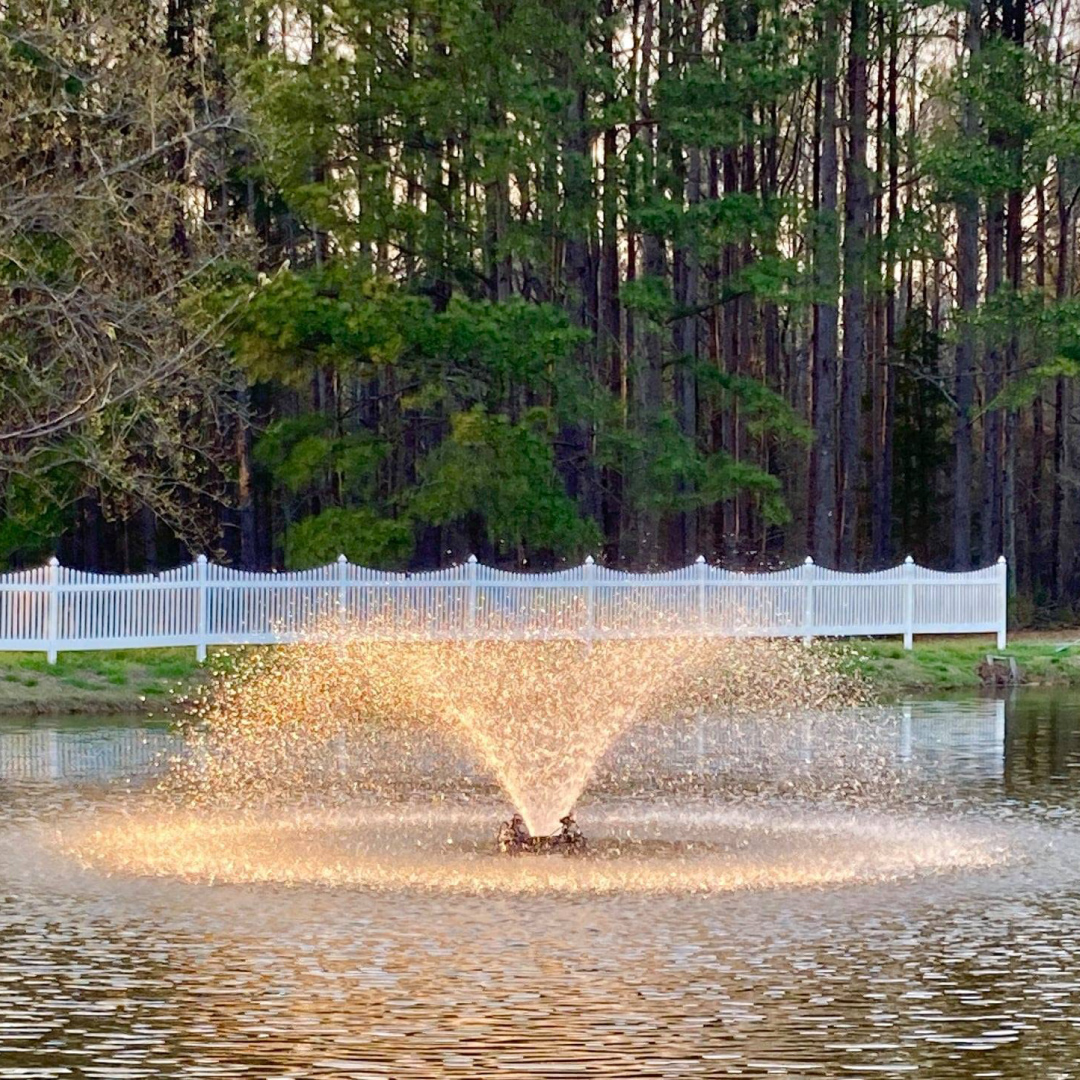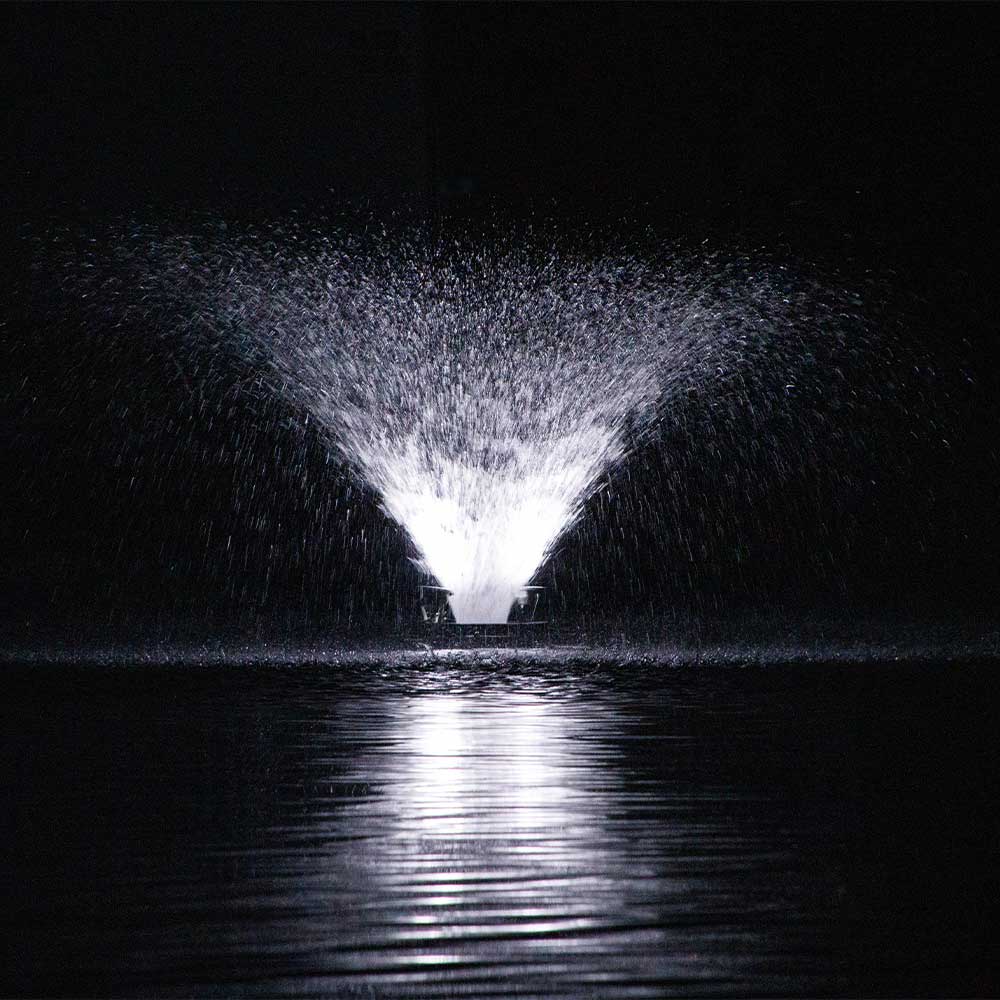 Strongest Small Fountain
Power House F500F
1/2-HP Aerating Fountain

Plug and play! This is a strong, rugged 1/2-HP aerating fountain by Bearon Aquatics. This fountain blends beauty and functionality in an elegant package.
These are perfect for small areas.

Specifications:
4 feet tall x 15 feet wide
106 gpm @ 5A
1/2-horsepower 120V motor
100′ cord with a plug
lighting options available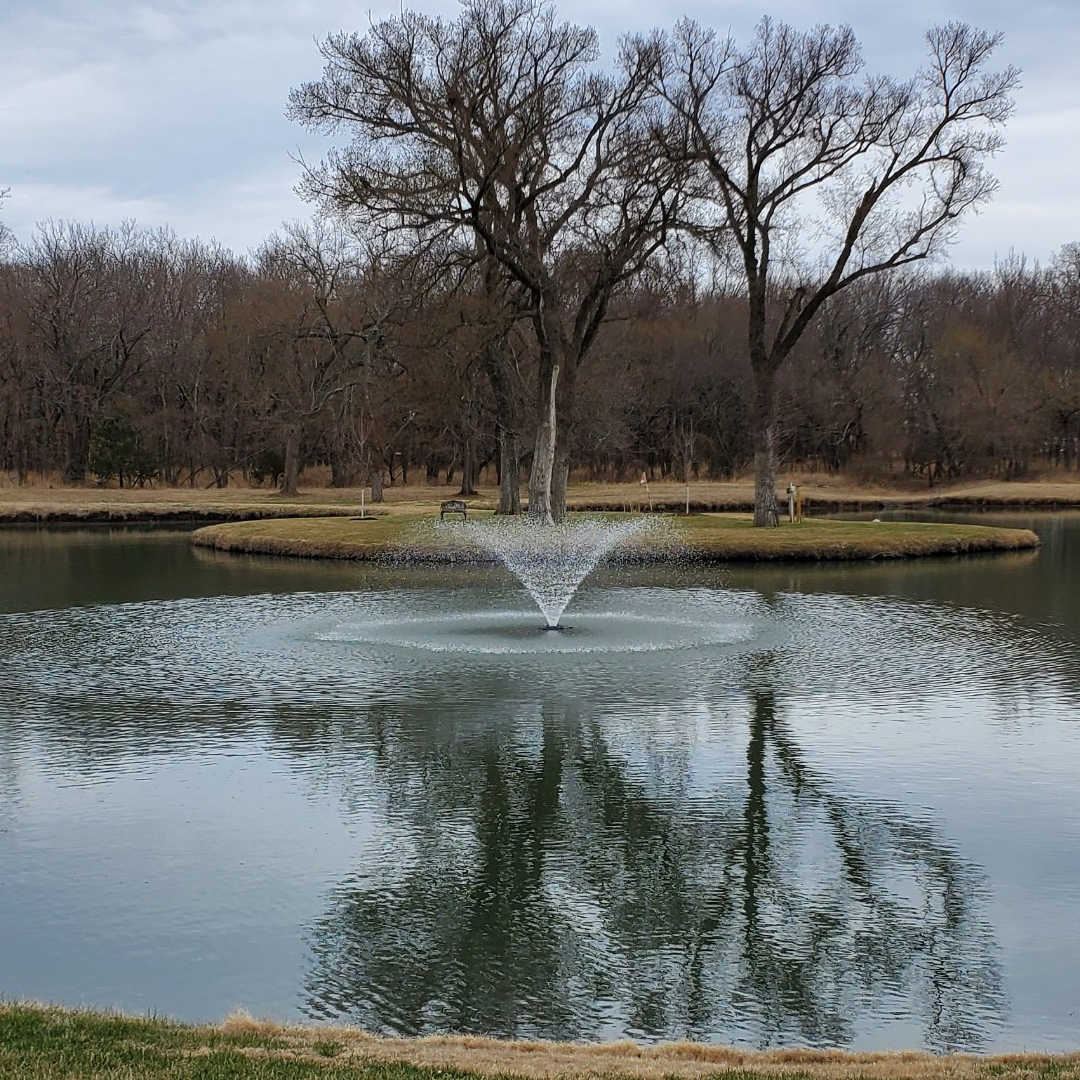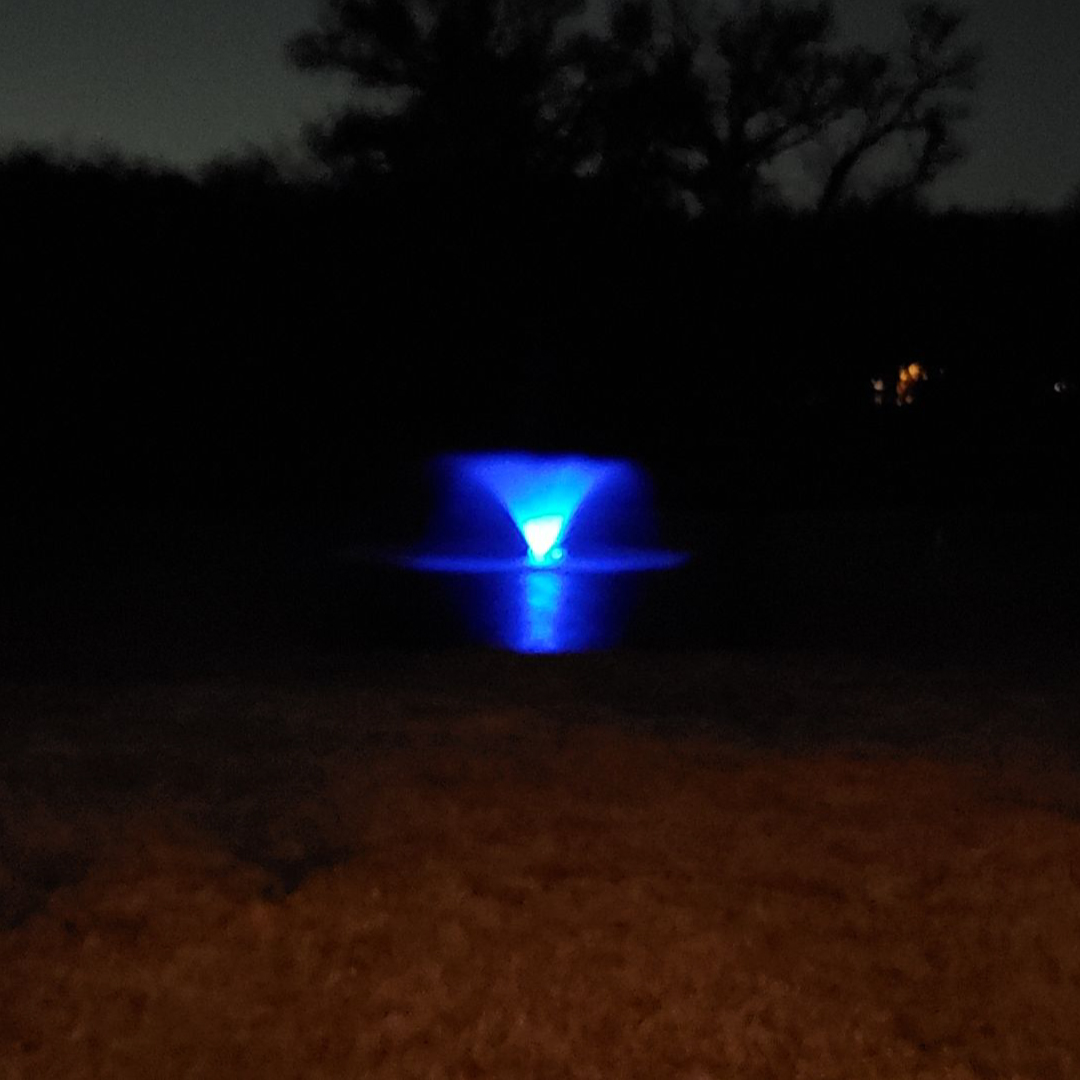 Mighty Medium Fountain
VFX4400
1-HP Aerating Fountain

Kasco fountains have great design features and they are sharp-looking displays!
These fountains are sturdy and reliable.
The VFX model is available in sizes from 1/2 to 5-HP!

Specifications:
8 feet tall x 26 feet wide
186 gpm @ 11.3A
1-horsepower 120V motor
Control Panel & 100′ cord
ask about lighting options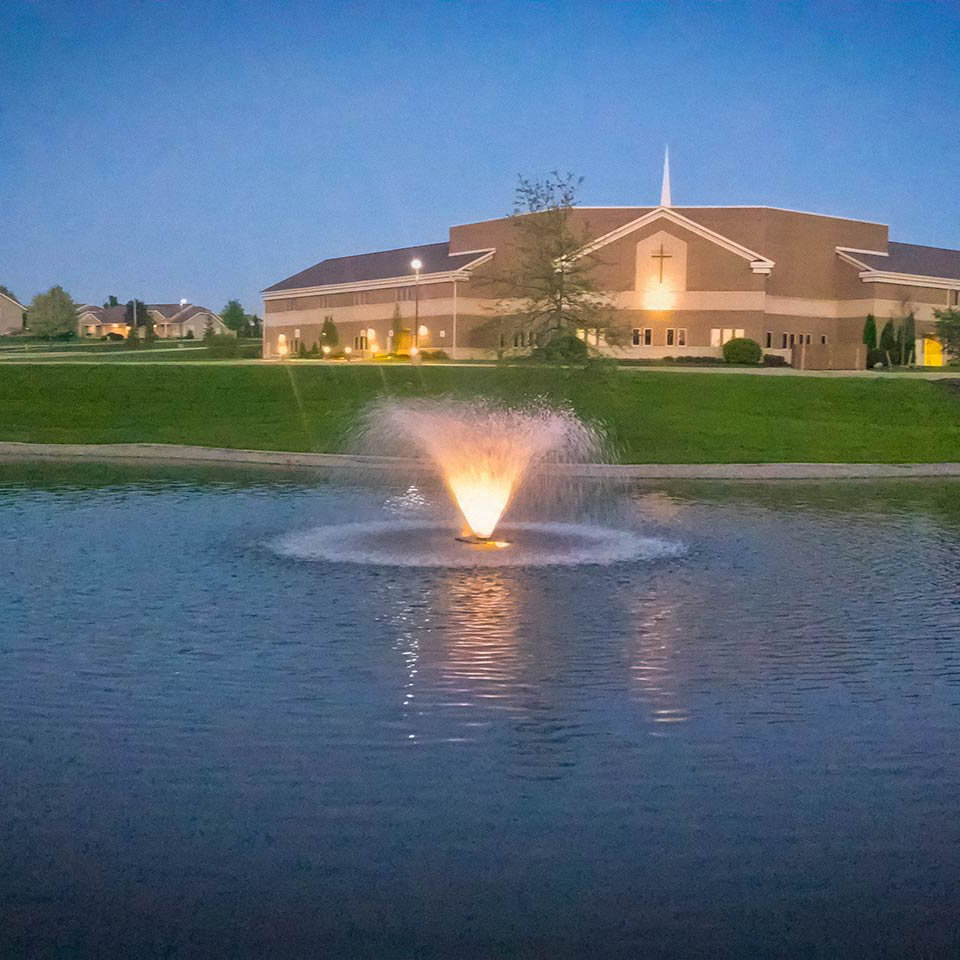 The Fullest Fountain
DA-20 Display Aerator
3-HP Fountain with lights

230V Fountains are best. Scott Aerator makes awesome 230V Aerating Fountains. They look the fullest because they move a lot more water than other fountains. Recommended sizes: 3/4-HP & up!

Specifications:
12 feet tall x 30 feet wide
800 gpm @ 14A
3-horsepower 230V motor
Control Panel & 100′ cord
Includes 4-light RGB lighting

Lights for decorative aerating fountains
Aerating fountains create an umbrella-shaped wall of water that catches a lot of light.
Subsurface Aeration
Scientifically improve deep pond health
The EPA and Kansas Dept of Wildlife Parks & Tourism recommend aeration in ponds as the #1 way to improve pond water health.
This is because the deep-end of your pond stays cold and dense, so it loses oxygen and the bottom of the pond builds sludge and stops contributing to pond health. Diffused aeration is scientifically proven to stir ponds from the bottom to top as deep as 50 feet. Diffused aeration improves water quality. Aerators reduce and sometimes eliminate algae, fishkills, green water, leaves, odors and sludge.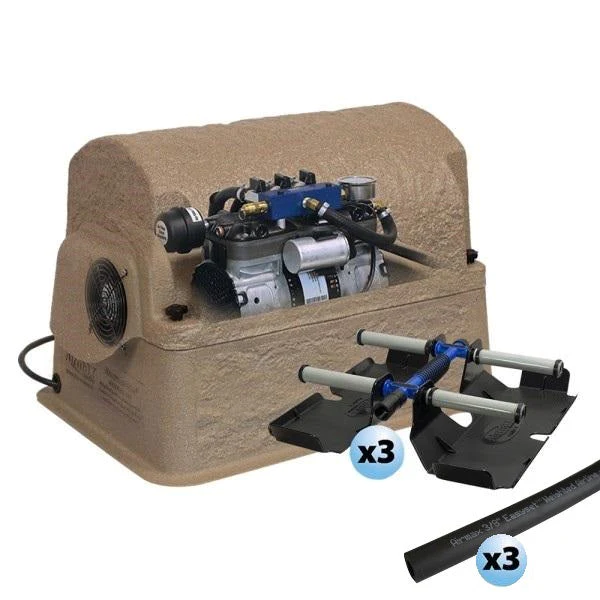 Airmax
PS30

Specifications:
1/3HP Rocking Piston Compressor
3x Proair 4 PTFE diffusers
300ft 3/8″ weighted airline
3-valve manifold & guage
Composite cabinet with fan

With the premium PTFE diffusers, Airmax Pondseries is a superb aeration kit.
This super-quiet setup will operate in ponds and sand pits up to 20′ deep.

We recommend the PS30 for round ponds less than 1-1/2 acres.

Airflow: 4.7 CFMs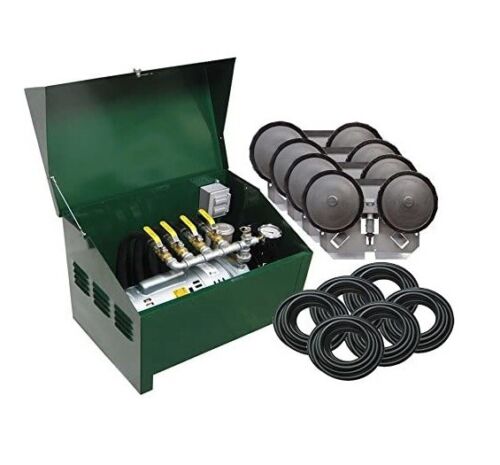 Easy-Pro
PA75

Specifications:
3/4HP Rotary Vane Compressor
4x Dual 10″ membrane diffusers
600ft 1/2″ weighted airline
4-valve manifold, guage & release
Locking steel cabinet with fan

Our #1 Bestseller.
These aerators are tuned for the types of ponds we have! The extra airflow generated by this RV Compressor will clean any dirty pond of 1 to 2 acres.

Ideal for Kansas ponds that are 5 to 12 feet deep.

Airflow: 9.6 CFMs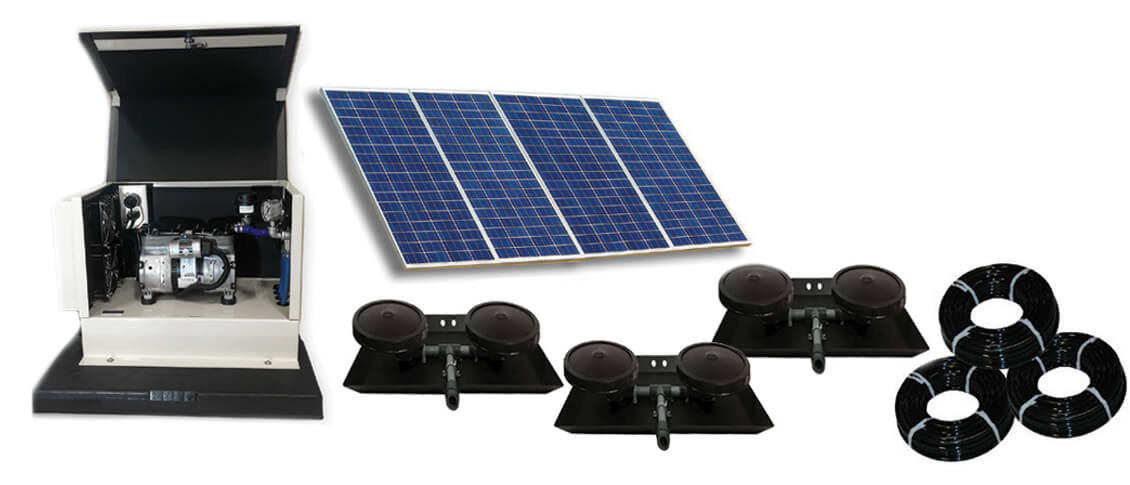 Solar
Aeration

Specifications:
1/2HP Rocking Piston Compressor
Four Solar Panels
3 x Dual 10″ membrane diffusers
300 ft 1/2″ weighted airline
3-valve manifold & guage
Locking steel cabinet with fans

An excellent option for ponds without electricity.

Best combined with windmill aeration.

We recommend these for round ponds 1/3 to 1 acre.

Airflow: 4.3 CFMs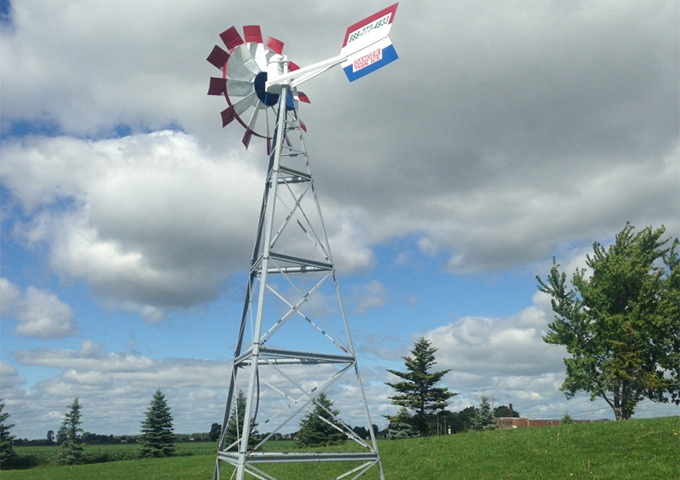 Windmill
Air Compressor
Specifications:
6′ diameter windmill head
12 ft 4-legged stand
15 ft total height
100 ft 1/2″ weighted airline
1 x Dual-10″ membrane diffuser

You would never know this windmill was an air pump just by looking at it, but this aerator uses a known energy-source in Kansas: the wind! A reliable alternative power source.

One dual diffuser is suitable for ponds up to 1/2-acre.

Airflow varies upon windspeed
2.4 – 5 CFMs
How do bubbles create a self-cleaning pond?
1) The diffuser emits millions of tiny bubbles which exchange oxygen.
2) The rising bubbles lift big loads of spoiled cold water- trapped in the pond depths.
3) The bubbles erupt at the surface, causing the trapped dirty water to rise up and mix with sunlight and air to restore quality. Learn more
Living Waters Aquariums & Ponds sells and installs all manner of diffused aeration systems. We take measurements of your pond to ensure we will turn your pond effectively. And we cover our installed packages with a results guarantee.
Create a landmark water feature
A waterfall will create a grand display in your pond, and the most well-designed waterfall will provide your pond more health benefits than aerating fountains.
Living Waters Aquariums & Ponds installs natural stone waterfalls on solid reinforced slab foundations. We do not construct waterfalls with soft limestone blocks. Our natural waterfalls display pristine and majestic beauty. They are resistant to the elements of time, weather, and hydraulic erosion.
Living Waters Aquariums & Ponds creates exceptional monuments. We select hard boulders and quality stone resistant to freeze-thaw. Our classic construction and design work is resistant to settling over time.