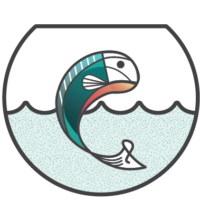 Serving Wichita and South-Central Kansas
Industrial & Residential Neighborhood Retention Pond management service.
Provider of Stormwater BMP Inspection & Maintenance in in Ark City, El Dorado, Hutchinson, Newton & Salina.
We fix bad farm, fishing and retention ponds fast! We manage weeds & vegetation efficiently with cleaner results for less!
Waterfall Aeration Fountain Installation
The sight of tumbling water connects us to nature.
There is no water too deep, no mountain too high for Living Waters to move on your property.
Waterplant and Weed Control
Ugly pond? Do you have problems with cattails, reeds, moss or duckweed?
We use both conventional and organic management practices for long-term fixes.
Water Quality Improvement
Pond scum problems? Is your water green like pea soup, muddy or oily?
Our Best Management Practices will result in a low-algae, self-cleaning pond!
Wet Landscape Maintenance
Rain gardens & borders absorb rainwater pollution with varieties of colorful annuals and perennials.
Wildflower Waterfilters are a self-sustaining BMP.
Manicured Pond and Turf Solutions
Do you desire a quiet & tidy outdoor setting?
We don't serve geese. We serve pristine Turf & Surf Management.
Do you want a better fishing experience?
We guarantee our products produce healthier fish faster!
Retention Pond Inspections
Be advised on Wichita Stormwater regulations and best management practices.
Prevent disaster! Schedule your qualified biannual retention pond inspection.
Farm Pond & Stormwater BMP Repairs
Leak repairs and more.
Receive a free estimate from a qualified technician!
Put us in charge of the details on this unpleasant job before it gets worse.
We clean-up summerkill and winterkill events.
WATER FEATURE INSTALLS
For further information on what pond fountain is right for your Kansas pond, see our
buyer's guide & FAQ
DECORATIVE FLOATING FOUNTAINS
Enchant your neighborhood with the blooming beauty of a decorative fountain. Do you want your fountain pattern to be a rocket, geyser, umbrella, crown, or 2-tiered? Our floating fountains emit majestic plumes of water as high as 36′ into the air! We also provide a variety of fountain lights!
DIFFUSED AERATION
The EPA and Kansas Dept of Wildlife Parks & Tourism recommend aeration as the greatest way to improve pond water health. Living Waters Aquariums & Ponds installs air diffusers at calculated depths to efficiently "turn your pond". As a result, you will have a self-cleaning pond environment.
AERATION FOUNTAINS FOR SHALLOW PONDS
We sell aesthetic power fountains to improve your water quality. More efficient than a decorative fountain, these fountains dually-serve as surface aerators with an attractive "V" shaped geyser. Living Waters recommends aerating fountains for a "shallow" pond with a depth between 15″ and 60″.
WATERFALLS
Living Waterfalls will create monumental beauty in your pond, and our well-designed waterfall will provide your pond more benefits than aerating fountains. Living Waters installs natural stone waterfalls of pristine delightfulness. They are resistant to the elements of time, weather, erosion, and foundation settling. Living Waters provides free estimates and design specifications for waterfalls, and our work is backed by a 3-year parts and labor-guarantee.
AQUATIC VEGETATION MANAGEMENT
Control Weeds with Aquatic Vegetation Management
Did you know that Cattails are the breeding zone for a type of mosquito known to carry diseases such as West Nile?
We isolate invasive cattails and eliminate common reed. We destroy weeds on the banks and in the rip-rap. And we control all plants above and below the water.
"All aquatic plants can grow like weeds"
This is the general mindset of an aquatic landscape professional. Therefore Living Waters knows a watch list of hypo-allergenic helper plants that our management team protects. All other plants are on our bad list.
We use a combination of conventional low-impact applications, mechanical equipment, and over-seeding to get the job done right the first time. Your retention pond and the pipes connected to it are regulated Storm-water BMPs. We remove overgrowth and woody vegetation that is non-compliant with the BMPs. We control goldenrod, poison ivy, water-lily, duckweed and hornwort. Living Waters promotes the growth of native primrose, purslane, asters & frogfruit to beautify the grossest looking areas of your pond. With the control of Cattails and weeds, our aquatic vegetation management will give you a view of the butterflies and songbirds that rely upon ponds and lowland flowers.
Anglers in the weeds-we deliver relief!
We know the best management procedures. We eliminate weedy aquatic undergrowth and algae in as little as 3 months! If your problem is small we may deliver an immediate solution! Our aggressive, bass-friendly techniques will eliminate all problematic pond weeds within 15 months! We use the fishery secrets.
Please contact us if your pond needs improved management.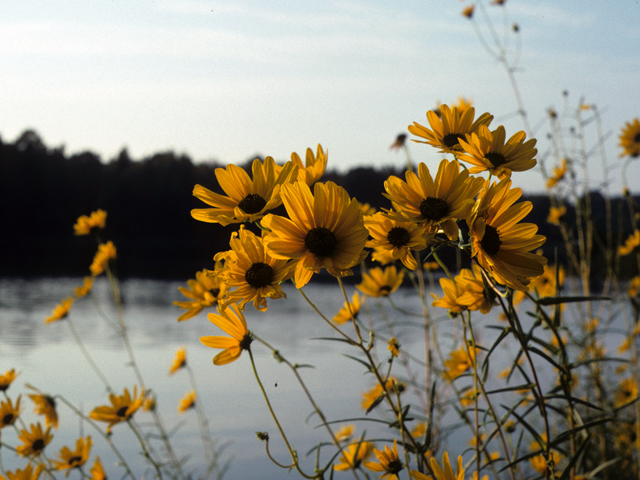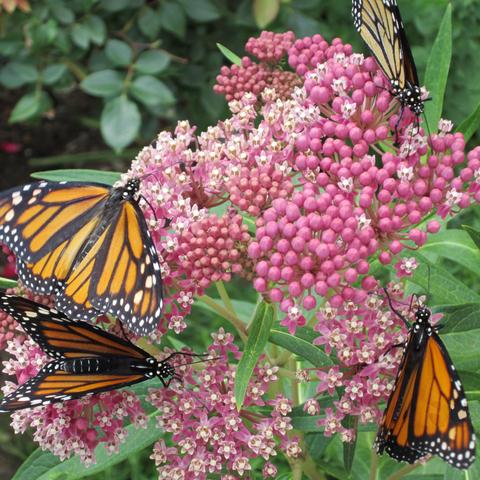 WATER QUALITY MANAGEMENT
Do you have mucky water? We eliminate all forms of algae fast! Good water quality is vital to the native streams and rivers that your community is built upon.
Low-maintenance is also our desire.
We manage storm water efficiently
Living Waters uses labor-saving practices to improve the bio-filtration of your pond and stream. Your living pond changes with the yearly weather cycle. When the weather gets hot, your pond is extremely affected runoff water: Sometimes your pond and the weather are both beautiful. Other times, the pond and the weather appear to be at-odds.
We want your pond environment to remain healthy & hypo-allergenic year-round, because neighborhood health & safety is our top concern. Living Waters technicians work with a combination of love and science. Our work may warrant the use of bio-remedies, good bacteria, enzymes, and most importantly- good circulation. With our basic comprehensive water quality management package, we distribute critical circulation and we disperse algae and vegetation control services.
Cleaner Results for Less
We establish the basic water quality management package in one day.  However the benefits of our package may be reaped for 15 years or longer- We deliver our basic comprehensive package for $3990 for Wichita and Sedgwick County ponds  measuring 1/4 to 1 acre, circular, 9-15 feet deep*. Contact us for further details, or manicure your pond with our turf-and-surf management.
*pond measurements can be obtained via as-built plans or our BMP inspection service
Smart Landscapes For Ponds & BMPs
Smart Landscape Design For Ponds
Living Waters Smart Landscape Designs for ponds 1/4 acre and larger.
We will restore the natural health and beauty of your fragile pond with short, semi-aquatic flowers. This list includes a wide array of hypo-allergenic natives and perennials. Our wetland gardens have deep strong roots to guard against drought and erosion. They also detoxify anaerobic soils and have a long blooming season. Smart Landscape Designs utilize rain gardens and vegetative strips that bloom without any of our effort. Lowland flower gardens also attract crowds of  Monarch and other butterflies,finches, dragonflies, and sometimes hummingbirds. As an added benefit, dragonflies catch and eat mosquitos.
Smart Landscape Design must be done in accordance to EPA-based County & Stormwater Division regulations-ponds have delicate ecosystems. Smart Landscape Designs meet all BMP design & safety standards. Our landscape installations require low-maintenance. The use of fertilizers is avoided around ponds. With every garden-including xeroscapes, regular maintenance is required to establish the plantings. And with aquatic vegetation management, your landscape will become well-established in only one year. Contact us to learn more.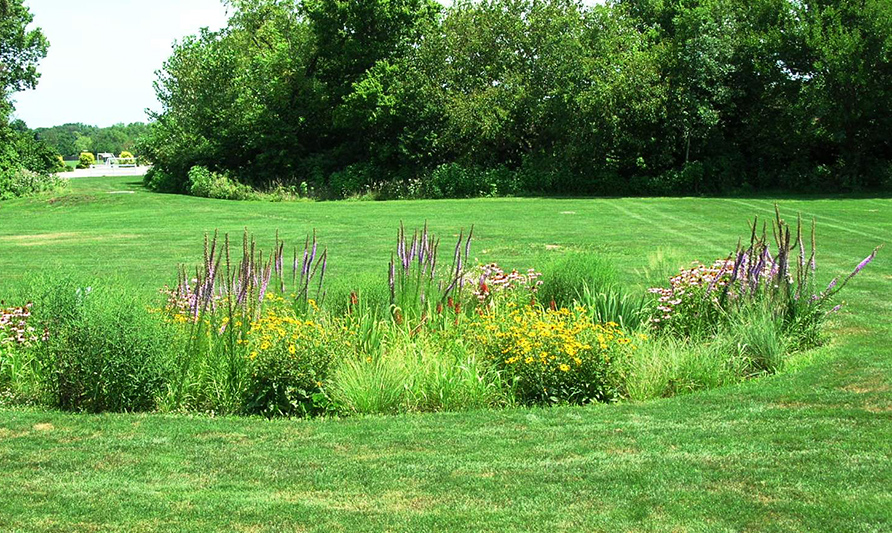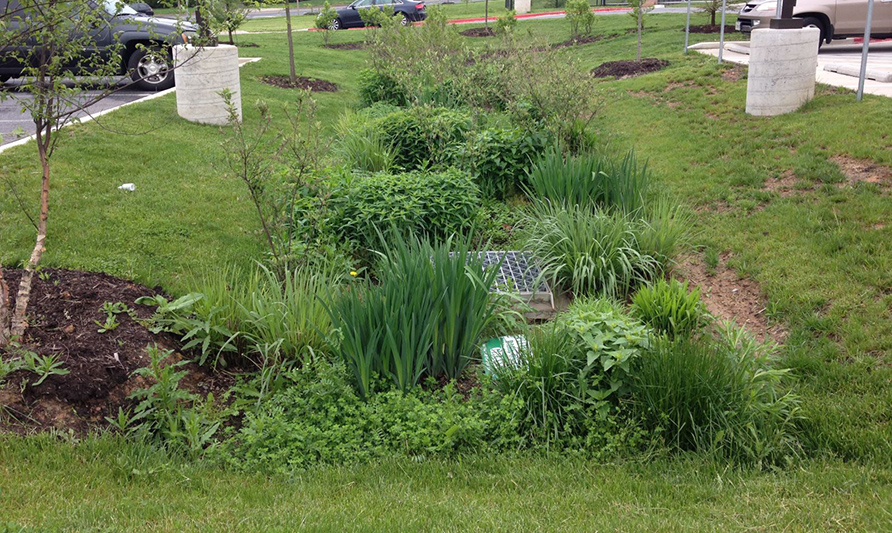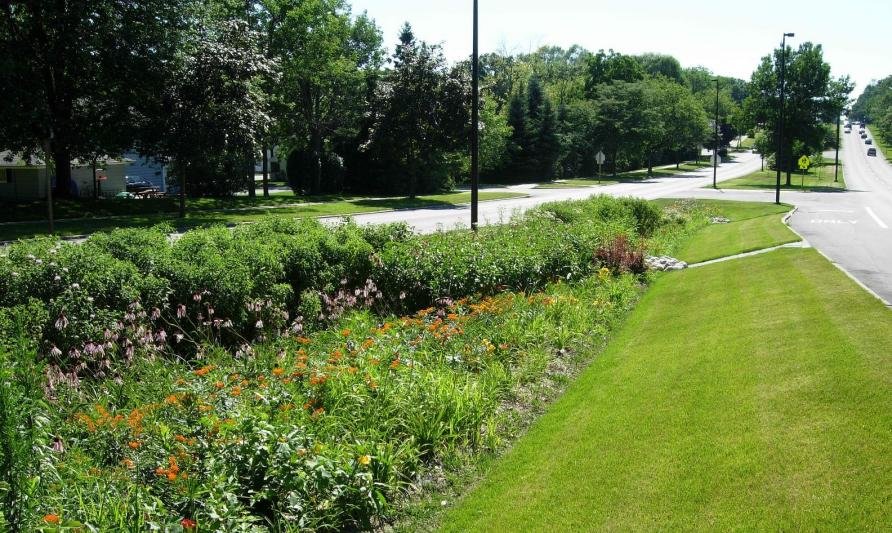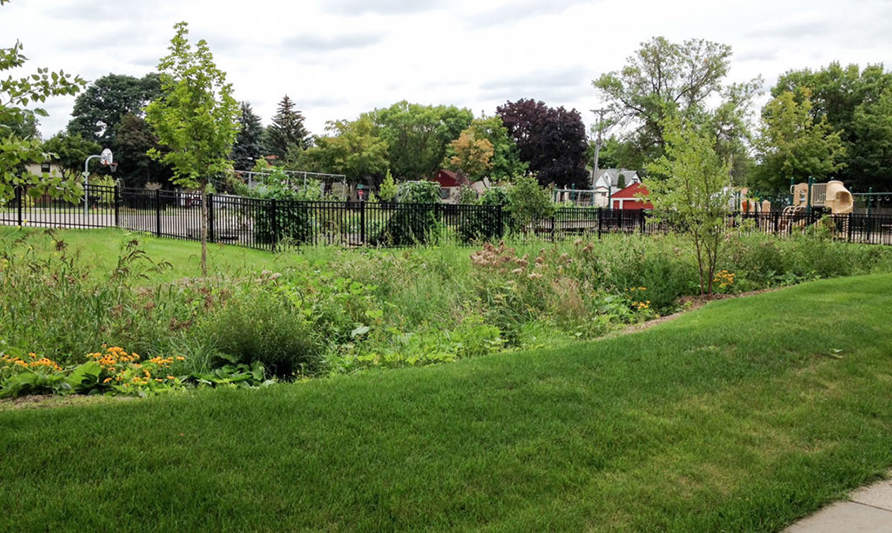 Smart Landscape Installs For BMPs
Living Waters Smart Landscape Installs windbreaks, bioswales, porous landscape detentions, vegetative strips, geotextiles, geocells and other BMPs. We formulate bulk seed native blends:
Kansas native hygrophyte seed
Kansas native short lowland seed mixes for sun
Kansas native lowland seed mix for part shade
Stormwater BMP zones greater than 5 acres need biostructure designs to be implemented during Phase 1 of property development. Even before your pond retains water, our Stormwater BMP managers place your pond on a rapid bio-development timetable with successive seeding. Outsourcing your onsite BMP to Living Waters Smart Landscaping Designs will create more beautiful BMPs at reduced costs.
TURF & SURF MANAGEMENT
Hold the goose
No duck today. Our Stormwater BMP Managers strive for:
Well-manicured, healthy grass
Sharp, controlled vegetative strips
Improved water clarity
Effective results
Living Waters assumes all care (excluding mowing) of vegetation & lawn within 10 feet of the retention pond. Our BMP managers condition this "turf buffer zone" (typically fescue grass) to maintain good water quality. The vegetation surrounding your BMP pond is a critical filter for storm-water runoff.
We Cultivate Emergent Hairgrass in Pond Shallows to create seamless turfs and filtered waters.
By the way, Living Waters can tailor your management program to deter resident geese. Excessive waterfowl droppings are the cause of fecal coliform, which degrades water quality and may even pose a safety risk or trigger algae blooms.
We encourage all retention pond owners to follow these BMP tips:
Don't use fertilizers on embankments
Don't allow grass clippings to go onto the bank, riprap, or pond.
Do not grow trees on embankments
Don't use fertilizers within 10 feet of your pond
Don't feed bread to waterfowl because it contributes to fecal coliform in the pond
Never trim the turf surrounding your pond shorter than 4″ (6″ on steep embankments)
Always sod or overseed bare patches
To learn how turf & surf management is the perfect service for your pond, please contact us.
RECREATIONAL SPORT FISH MANAGEMENT
Fishing is a magical outdoors activity loved by all ages of Kansans. However most retention ponds are not built expressedly for fishing. Living Waters offers multiple services for producing desireable fish populations. We guarantee to produce desired results in less than one year.
Kansas has great local fish farms that will stock your pond.
But Living Waters will do what no fish farm does. We quickly turn your pond into a self-sustaining fish farm- never stock your pond again!
A fish farm raises different types of fish in their own ponds. It has a complex web of life. However, your pond contains different types of fish growing, breeding, fighting, and competing for food. This means your pond is a VERY complex food web. You just want high-quality fishing. Producing quality fish is second-nature for Living Waters technicians. Because we know fish behavior, we can look at your pond and the catch it produces to discover ways to improve the quality of bass, bluegill, flatheads, channel catfish and other sport fishes.
This means we will restore or install:
non-snagging structures
long-lasting breeding zones
hunting spaces
foraging habitats
hiding spots
natural food sources
We also inquire about your fish harvesting practices. This is because we have the skill necessary to tailor our fish management program to fit common underfishing or overharvesting habits.
Recreational Sport Fish Management may be accompanied with Water Quality Management & Aquatic Vegetation Management products.
Living Waters remedies the causes of bad fishing.  If you need to improve your pond, please contact us today!
RETENTION POND INSPECTIONS
Your biggest health and safety concern on your property is your retention pond BMP. As a homeowner, you have full ownership and liability for the stormwater BMP facilities on or adjacent to your property.
The City of Wichita Department of Health and Environment Stormwater Division requires HOA Owners to submit a semi-annual qualified inspection of all retention pond & stormwater BMPs (pipes, culverts, drains, spillways, vegetation strips, etc.) located on your property. Some of the inspection you can do yourself but BMP structures must be inspected, then marked and photo documented for clogs, wear, corrosion and erosion, sedimentation, undergrowth, and overgrowth.
City of Wichita Code Chapter 16.32 and Sedgwick County Resolution 196.10 require that property owners maintain all stormwater facilities on their properties to ensure they are fully functioning to treat and control stormwater runoff, and to document facility inspections and maintenance activities. Certified inspection documents must be submitted semi-annually to WDHE Stormwater Division staff.
Living Waters Aquariums & Ponds performs qualified inspections of your retention pond & stormwater BMPs.  We deliver a field-report followed by a 31-point stormwater facility inspection & field-marked photodocumentation as well as maintenance guidance.  Our inspection report helps ensure the long-term proper operation of the stormwater management facilities. Homeowners, health & Safety is your liability, and therefore we may include findings of conspicuous health & safety issues in our field report.
Contact us to schedule your inspection today!
POND & STORMWATER BMP REPAIRS
If you have clogged or unsafe drain culverts, call Living Waters Aquariums and Ponds. We Repair Stormwater BMPs:
Leaks and low water levels
Drain Pipes
Embankments
Outfalls
Spillways
Riprap
detention zones
and more
No job is too large for us. We can fix your 10-acre pond, even if it was incorrectly designed, poorly built, or doesn't hold water. You can count on us to get the job done correctly, with the right equipment, for less. Please call to schedule a consultation with us today!
RAPID RESPONSE ENVIRONMENTAL CLEANUP
We clean filthy ponds
Is your pond suffering from an explosive growth of algae moss or worse- a fish kill?
Living Waters provides environmental cleanup services for:
summerkill
winterkill
floating algae moss
pond scum
turbid green water (pea soup)
toxic blue-green algae blooms
All of Living Waters service packages come with a guarantee of quality and effectiveness. Call us today if you need a team to assemble at your job site in less than 24 hours.
OUR QUALITY GUARANTEE
The Living Waters team has been serving aquatic enthusiasts for twenty years and hence we help you however we can. Our mission is to serve everyone to our fullest capacity. We provide quality services for your pond or aquarium. It does not matter if your water feature needs immediate service or is still a dream, because we give quality service and aid you along the way. Our rates are competitive and our quality is second to none. If you do not receive the service that we promise to deliver, we will return to fulfill your needs. Cash, check, or card accepted. All estimates are free.
Contact Us For A Free Estimate