Buyer's FAQ Guide for Decorative Floating Pond Fountains, Aerating Fountains & Lighting Kits
Do all pond fountains improve water quality?
Yes. Pond fountains create ripples, which reduce surface tension and increase the osmotic exchange of oxygen.
Pond fountains are great at removing floating pollen, which can accumulate a film lasting several days during the year. Fountains also reduce dust and fine particles that can pollute the pond surface.
When do I turn my fountain on?
We recommend operating your fountain from the hours of 7am to 9pm.
If your fountain has lights, we recommend to run your fountain from 7am to 11pm.
For energy-savings, do not run your fountain at night.
In springtime, you can turn-on your fountain in March.
Can I run my fountain all winter?
Sometimes.
Firstly, your fountain may be safely left in the pond during winter. And second, your fountain is guaranteed to operate as long as ice does not form around the radius. Fountains with lights can operate normally in temperatures below freezing for short durations during the day. You should not operate your fountain in sub-zero temperatures, especially January and February.
When should I shut-off my fountain?
Before the entire pond becomes iced-over, we recommend you unplug your fountain.
Fountains that are needed for aeration may be shut off during the frosty months to save energy. This is because cold water stays clear and carries much more oxygen than warm water. In the Autumn, fountains may reduce some leaf accumulation in the deep zones of your pond, by dispersing floating leaves towards the shorelines.
Do all pond fountains oxygenate your pond?
No. Water features are wonderful for contemporary landscapes, but most fountains cannot aerate any water except their small splash radius, because they use a high-pressure nozzle, which means they circulate low volumes of water.
Aerating fountains circulate large volumes of water with an efficient low-pressure impeller pump. Therefore, aerating fountains increase the oxygen levels to depths of 4-5 feet. This is sufficient for aerating small Kansas ponds.
But do you need to to dial-up your pond circulation to volume level 10, with high energy efficiency? You might love sub-surface aeration. If your main goal is to improve fishing and water clarity, then sub-surface diffused aeration can improve your water year-round with deep and wide results in the whole Pond guys.

Decorative Fountains vs. Aerating Fountains
Both aerating fountains and decorative fountains are designed for outdoor display purposes. They both produce elegant displays of water during the day, and can be equipped with an optional light at night with illumination. But here's the confusion: decorative fountains can be mistaken for aerating fountains because the v-shaped trumpet fountain is popular for its beauty. However, a trained eye may be able to identify the fountain's differences from a close shore.
Similarities between decorative fountains and aerating fountains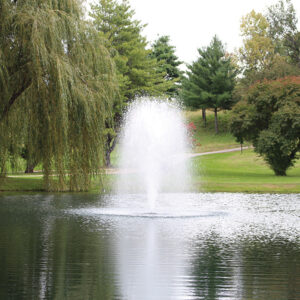 Aerating fountains and decorative fountains are mounted with the same interchangeable lighting kits.

Both are attractive display fountains.

Both use about the same amounts of energy.

Most fountain motors range in size from 1/2 to 5 horsepower.
What are the Differences between types of display pond fountains?
Decorative Fountains
Decorative fountain patterns are simply modified by changing the nozzle (brands).

They produce narrow streams of water to heights of 15-30 feet.

Decorative fountains create delicate displays of streaming water.

Most decorative fountains aerate small volumes of shallow water of less than 1/8 acre.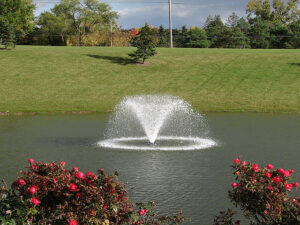 Aerating Fountains
Aerating fountains produce a v-shaped, or trumpet pattern 8-15 feet tall.

These display pond fountains cast a heavy shower of large water droplets in a wide radius.

They circulate water to a depth of 4-5 feet.

These fountains aerate more water with less evaporation using the same amount of energy.
Why do I want to choose a decorative fountain?
Decorative fountains can be configured with many types of fountain jet appearances.

Decorative fountains are ideal for use with diffused aeration, or when you already have good water.

Choose a decorative fountain when you are creating a strong focal point with a cluster of fountains.
I don't know much about fountain the fountain I have, but can I add lights to it?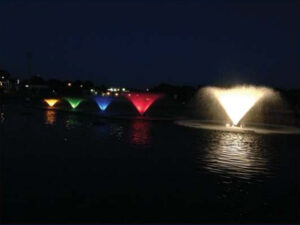 Yes.
Living Waters Aquariums & Ponds sells lighted fountains by major manufacturers- Air-O-lator, Easy Pro, Kasco, Oase, Scott Aerator and of course AquaMaster. All provide options for soft white or colored lighting. Since the last decade, LEDs have outperformed other lights as their lower temperatures attract less moisture. Therefore, LED fountain lights require less maintenance. All fountain lights are compatible with timers and photocell sensors. Additionally, some manufacturers include GFCI timers with the lighting kit.
A soft white glowing fountain serves purposes. It marks your waterway at night. It attracts night-feeding fish. And naturally, your glowing fountain is a modern landmark. Soft white lighting kits have simpler replaceable components.
Color-changing RGB or RGBW lights are popular options due to cost and convenience. Controlled with long-range lighting remotes, changing the character of your fountain is hassle-free. So with the push of a button, you can change the fountain's color from blue to gold, or a fading sequence. Do you want to sync your lights with audio? No problem. Living Waters Aquariums & Ponds can serve you.
How do I get pond fountains installed in my pond?
Living Waters installs all size fountains for commercial, industrial and residential HOA ponds. We even supply fountains for golf courses, lakes or 1/4 acre farm ponds. In cases of on-site analysis, Living Waters takes measurements of your pond to find what fountain best suits your needs. Your fountain must be securely installed to operate in fluctuating water levels. On the embankment, we lead the electrical cords through conduit for safety. We install fountains with the intent to simplify their maintenance, because we also service and maintain the fountains that we install.
How often does my fountain require maintenance?
Pond fountains operate best with clean suction screens. For this reason, some manufacturers recommend to pull the fountain to shore for routine maintenance once every month. This is also important during droughts, or after heavy rain, when floating debris may be swept into your pond and attracted to the suction screen. However, your fountain may operate many months without a measurable decrease in suction.

Living Waters Aquariums & Ponds supplies all of your fountain needs. We clean screen parts, remove winding debris from the drive shaft, and inspect mineral buildup equipment every visit. We may also repair bad lights, clean pumps, replace worn seals, and change nozzle patterns. Call us to schedule your bi-monthly fountain cleanings from March to November.
What kind of guarantee comes with my fountain?
Living Waters Aquariums & Ponds guarantees their installation workmanship to be secure in the environment and free of any defects. Good-quality electric motors have long warranties. The other fountain system components, such as a pump head or a lighting kit, typically have 2-year warranties. Small Kasco fountains have 2-year warranties. Scott Aerator places a 5-year warranty on the motors.